Tue, 04 October 2016 at 5:43 pm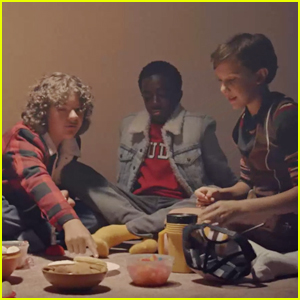 Millie Bobby Brown, Gaten Matarazzo and Caleb McLaughlin share some snacks during an interview for an upcoming issue of Teen Vogue.
The Stranger Things cast were also joined by their co-stars Noah Schnapp, Natalia Dyer and Finn Wolfhard as they opened up about the show's success and their newfound fame. Check it:
Millie Bobby Brown on their instant fame after the show's premiere: "The show is so well-received, and we're just very grateful to the press and our fans [for staying] supportive and [being] there for us. We really couldn't have done this without Netflix and the Duffers."
Gaten Matarazzo on interpreting his character: "I definitely feel they wrote the characters around the people who played them. I feel like it was good that they did that because the kids playing them are able to play a role – actually, I feel like that's why we're getting so much better. People come up to me and say 'You're such a good actor.' In my mind, I really wasn't acting as much as I was being myself on camera."
Caleb McLaughlin on not recognizing Millie after she shaved her head: "I was at lunch and I didn't recognize her after. She was like, 'Hey Gaten, Caleb, Noah…' I was like 'Hey,' she was like 'It's me, Millie.' She looked so different."
Finn Wolfhard on leaning on each other during new experiences: "We all trust each other very much. We're all part of a big family now; it's like we're brothers so we have to trust each other."
Noah Schnapp on not immediately realizing the show's success: "I went to camp and I came back, and I saw that people from across the world were watching the show, and everyone was interacting with us on social media. I was so happy and amazed by how far the show had gone."
For more from the cast of Stranger Things visit TeenVogue.com.
Like Just Jared Jr. on FB