Wed, 19 October 2016 at 7:24 pm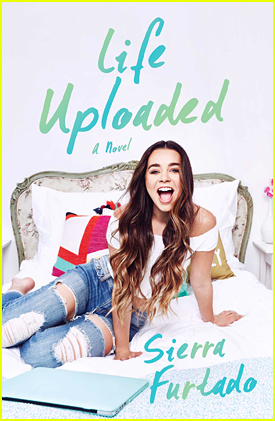 Who just got their copy of Sierra Furtado's new book, "Life Uploaded"?!
The social star's new novel just hit bookshelves and she's headed out on a book tour starting TOMORROW!
She'll be in Seattle; then head to Petaluma, Calif. on 10/21, Los Angeles on 10/22, Boston on 10/24, Doylestown, Penn. on 10/25, Ridgewood, NJ on 10/26, Downers Grove, Ill. on 10/27, and Beverly Hills, Mich. on 10/28.
Sierra's book centers on Harper Ambrose, who just wants to be recognized: for her zany sense of humor, her on-fleek fashion sense, and her love of all things makeup, flirty, and fun. After an awkward childhood where she fell out with her BFF Gwen and thought she'd never find her one true love, at last Harper feels as though she's finally discovered her voice in a space she never expected: on YouTube, making videos about her day-to-day life and broadcasting them to the masses.
Now an insanely popular vlogger with millions of followers, Harper balances the stresses of everyday high school life—SAT prep, boring teachers, and the mean girl clique staring her down in the hallway—with the glam, fast-paced world of online celebrity.
But when one hater on Twitter starts targeting Harper in 140 characters or less, and a young British actor who's captured Harper's heart might not be everything he seems, Harper feels like her pitch-perfect life is suddenly going to pieces around her.
Who better to help her pick them up and find herself again than her best friend Ellie and a certain tall, dark, and handsome someone she might not have realized was waiting in the wings for her all along?
Like Just Jared Jr. on FB