Fri, 21 October 2016 at 8:16 pm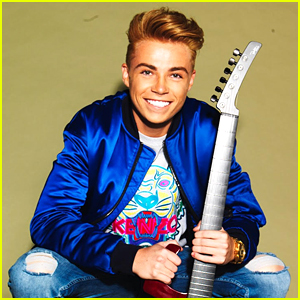 Mark our words — you're going to fall in love with up and coming musician Desmond John!
The singer will be dropping his debut single "Untradable" super soon and we've got the low down on the hottie right here on JJJ!
"I'm super excited for all my fans to finally hear what we've been working on," Desmond dished. "I wanted my first single to be something uptempo that people can vibe out and dance to. It's a feel good record, with a catchy melodic hook."
Check out 10 Fun Facts about Desmond below and listen to a sneak peek of "Untradable"!
1. I was born in Germany, but grew up in South Africa.
2. I love eating. My favorite meal is a burger and a Reese's Cup Milkshake. #HealthyLiving
3. I speak three languages
4. I'm definitely a sneaker head. My favorite right now is Adidas.
5. I've been to 18 countries, and have lived in 3 different continents (Europe, Africa and America).
6. Believe it or not, I'm actually a bit shy.
7. I grew up listening to the Beatles, Queen and Michael Jackson.
8. When I came to the US to pursue my music career, I had the incredible opportunity to work with Kuk Harrell who has produced records for artists I have looked up to my entire life such as Rihanna, Beyonce, Usher etc
9. I play the guitar, piano, and I'm learning to play to play bass.
10. I'm a huge soccer fanatic! When I first got to America I got excited because I heard so many people talking about "football" , which is what we call soccer in the U.K, so you can imagine my surprise when I saw my first "football match" on TV. Now, I'm obsessed!
Like Just Jared Jr. on FB