Mon, 24 October 2016 at 12:03 pm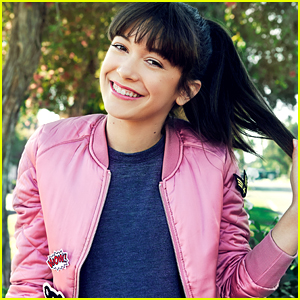 We're so happy that Grace Kaufman is back on TV!
JJJ last saw the emerging actress in TNT's The Last Ship and now she'll be starring on CBS' new comedy, Man with a Plan, alongside Friends' alum, Matt LeBlanc.
Grace will play Kate in the new show, which centers on a contractor (LeBlanc) who starts spending more time with his kids when his wife goes back to work, rediscovering the truth all parents eventually realize: their little angels are maniacs.
We recently caught up with Grace and learned 10 Fun Facts about her. Check them out:
1. I love Ašai bowls. I'm obsessed with them. I love making my own for breakfast each morning. I've been trying to eat healthy, and this is a good way to do it.
2. One of my hobbies is photography. I like capturing a moment so it lives forever. I have a Polaroid camera to take photos with my friends, but I want to get a professional camera as well.
3. I love the 70′s era. I really connect with the music and the fashion styles that were popular at that time. I like to let my inner hippie out.
4. I want to travel and see the world. I've dreamed of going to places like Paris, London, Ireland, Africa, as well as more exotic places like the Fiji Islands.
5. I'm a huge movie fan. My grandma introduced me to old black and white classic movies when I was little, and I have loved them ever since. Movies like "Paper Moon" and "A Place in the Sun". I learn and grow so much as an actress watching inspiring performances from movies like these.
6. Over the summer, I visited my friend who lives in Hawaii and we swam with manta rays. It was one of the most fascinating and beautiful experiences I've ever had.
7. I have a nine-year-old little brother named Henry who is so hilarious. Honestly, that kid can make anyone laugh! He does some acting as well and I'm really proud of him.
8. Music is a big part of me. I love all kinds of genres, like R&B, rock, today's top hits, and classic artists like Ella Fitzgerald, Frank Sinatra and Etta James.
9. I have two dogs named Jake and Penny, and a kitten named Olive. Jake is an Australian shepherd, Penny is a Dachshund-Chihuahua mix, and Olive is all black. My love for my pets is crazy. It's like having three other siblings.
10. When I was 5 years old, my family and I went to New York to visit some friends, and we went to see the show "Gypsy." After, we went to Penn Station to go home, and I got separated from my family by swarms of rushing people. I was lost for about 20 minutes until a lady found me and took me to the police station there. My mom finally found me and she was a nervous wreck. She calls my getting lost at Penn Station "the longest 20 minutes of her life.
Man With A Plan premieres TONIGHT, October 24th @ 8:30PM ET/PT on CBS.
Like Just Jared Jr. on FB