Tue, 01 November 2016 at 3:09 pm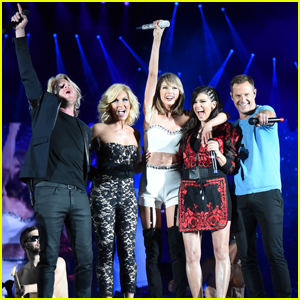 Country quartet Little Big Town just revealed that Taylor Swift wrote their new song "Better Man," off of their upcoming album The Breaker.
The group explained that Taylor sent them the special song and they knew that it had to be on the record.
"Some of you have been asking and we told you that there was a young girl in Nashville that wrote it by herself, and it's Taylor Swift. She sent us this song and it was one that was really special to her, and she thought of us because of the harmonies. She's never pitched the song to anyone before and the moment that we heard it we were like, 'Man, that is a song that we're going to cut,'" Karen Fairchild explained.
Phillip Sweet added, "This one just felt special. We've known Taylor since she was in high school. She's a dear friend of ours. The song speaks for itself and that's what we thought when we heard it, no matter who wrote it. It feels like it was meant for us to go with this emotion. It felt like it belonged to us and we made it our own."
Watch the music video for the song below…
Click inside to read the lyrics…

I know I'm probably better off on my own
Than lovin' a man who didn't know
What he had when he had it
And I see the permanent damage you did to me
Never again, I just wish I could forget when it was magic
I wish it wasn't 4am, standing in the mirror
Saying to myself, you know you had to do it
I know the bravest thing I ever did was run
Sometimes, in the middle of the night, I can feel you again
But I just miss you, and I just wish you were a better man
And I know why we had to say goodbye
Like the back of my hand
And I just miss you, and I just wish you were a better man
A better man
I know I'm probably better off all alone
Than needing a man who could change his mind at any given minute
And it's always on your terms
I'm hanging on every careless word
Hoping it might turn sweet again
Like it was in the beginning
But your jealousy, I can hear it now
You're talking down to me like I'll always be around
You push my love away like it's some kind of loaded gun
Boy, you never thought I'd run
Sometimes, in the middle of the night, I can feel you again
But I just miss you, and I just wish you were a better man
And I know why we had to say goodbye
Like the back of my hand
And I just miss you, and I just wish you were a better man
A better man
Better man
I hold onto this pride because these days it's all I have
And I gave you my best and we both know you can't say that
You can't say that
I wish you were a better man
I wonder what we would've become
If you were a better man
We might still be in love
If you were a better man
You would've been the one
If you were a better man
Yeah, yeah
Sometimes, in the middle of the night, I can feel you again
But I just miss you, and I just wish you were a better man
And I know why we had to say goodbye
Like the back of my hand
And I just miss you and I just wish you were a better man
A better man
Better man
We might still be in love, if you were a better man
Better man…
Like Just Jared Jr. on FB