Mon, 07 November 2016 at 6:08 pm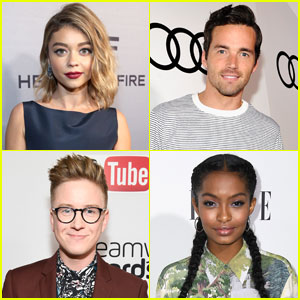 We're only a few hours away from Election Day and all your favorite stars are speaking out!
Everyone from Sarah Hyland and Ian Harding, to Yara Shahidi and Tyler Oakley have something to say.
They took to Twitter to urge people to get to the polls and vote!
Check out celebs tweeting before Election Day below:
Lauren Jauregui: "Freakin out about Election Day lol make sure you all go out and VOTEEEEE TOMORROW!! #imwithHER"
Isabela Moner: "yo my future is in your hands. Go vote"
Chrissie Fit: "I'm heading back to the US today and feel so much anxiety because of this election. Please, for all that is holy, VOTE for @HillaryClinton."
Sarah Hyland: "ATTENTION! LOUD NOISES! VOTE TOMORROW! #ImWithHer"
Ian Harding: "Nailed. It. #imwithher #nastywomenvote"
Yara Shahidi: "Get out and vote #ImWithHer"
Click inside to read more celebrity tweets about the 2016 Election…
Andrea Navedo: "My #ElectionFinalThoughts: The outcome of this election will shape our country for the next 4 YEARS. If you have the right to vote, use it!"
Aimee Carrero: "It's the day before Election Day! Get out there tomorrow and exercise your hard-earned right to participate in this democracy! #VOTE ????????"
Keegan Allen: "When you text @IANMHARDING to remind him to vote and he responds with "Way ahead of you, fam" and this picture. EVERYONE VOTE!!!"
Jessica Sanchez: "Your voice matters, don't forget to vote! #ImWithHer #StrongerTogether"
Joey Graceffa: "I choose HER. Bc I'm not going to sit around & let the go up in by letting He Who Must Not Be Named, win. ???????? #ImWithHer @HillaryClinton"
Tyler Oakley: "all because people waited in lines to vote. do your part. show up. vote. find your polling place by texting "PLAN" to 47246."
Connor Franta: "i cant stop thinking about how scary this election is. pls vote and make sure everyone around you is as well. we can only win this together."
Jordyn Jones: "i vote obama"
Caitlin Stasey: "Please vote Jesus Christ vote oh but only vote for not trump & there are other things guys OTHER THINGS AT STAKE TOO WEED ETC #Election2016″
Rumer Willis: "#imwithher don't let our future be decided because you didn't use your voice. VOTE #1dayleft"
John Green: "It really worries me that baseless conspiracy theories may decide this election, rather than policy plans and actual fitness for office."
Lyndsey Fonseca: "I beg you all to see #The13th Please see before Election Day. Be informed and learn. Thank you @AVAETC for being the voice of millions."
Like Just Jared Jr. on FB