Wed, 09 November 2016 at 11:20 pm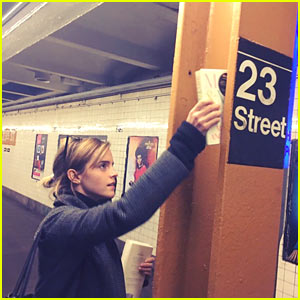 Emma Watson has taken to the subways of New York City to hide a message of positivity for those upset about the election results.
The 26-year-old British actress and UN Women Goodwill Ambassador took to Twitter early Wednesday morning (November 9) to share her thoughts on the results of the election.
"Today I am going to deliver Maya Angelou books to the New York subway. Then I am going to fight even harder for all the things I believe in," Emma tweeted to her 23+ million followers.
Later that day, Emma took to Instagram to share a pic of herself hiding Maya Angelou's book Mom & Me & Mom around the subway.
Mom & Me & Mom is Emma's book club – Our Shared Shelf – choice for November/December.
Emma has been extremely vocal on her views of this election and how she has been a proud Hillary Clinton supporter. Back in October, Emma took to Twitter to share how important she believes it is for women to vote in this past election.
Like Just Jared Jr. on FB