Wed, 09 November 2016 at 10:13 am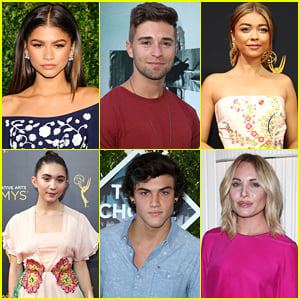 Young Hollywood is reacting to the news that Donald Trump will be our 45th President of the United States.
Sarah Hyland, Zendaya, Chloe Moretz, Jake Miller, Ryan McCartan, Rowan Blanchard, Leah Pipes and many, many more have reacted on social media to the news that broke their hearts.
Troian Bellisario writes on her Instagram: "I no longer know why I am watching the screen. I no longer know what the future holds. Everyone hold the ones you love close. And for those of you who have voted for him. Honestly, I just hope that you have seen something in your candidate that I do not. Something That is positive. That does love and support those of us who have been disenfranchised, who have been oppressed."
"I hope that this does not mean the death of progress. I hope that this is does not hurt those who are a different sex, sexual orientation, race, and nation. Please. Please. Protect us. When you try to make America great again. Remember what has ALREADY made America great. Women and men. Immigrants. Refugees. Black. White. Hispanic. Asian. Gay. Straight. Bi. Transgender. Those in the room. And those currently on the outside. Remember us. And let us all take care of one another," she continues.
Click inside for more reactions to the 2016 Presidential Election…
Like Just Jared Jr. on FB