Thu, 10 November 2016 at 2:50 pm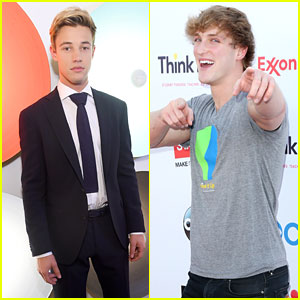 Logan Paul, Cameron Dallas and other big-name social media stars get real about how they make money.
Admit it, every time you post a video, you're secretly hoping it goes viral. And — BAM! — you're suddenly social media famous.
Fame is great, but top-tier social media influencers also make serious bank.
In a candid interview, Logan admits that what you see when you Google how much money he's worth, it's pretty accurate.
"If you Google it, it will say a million dollars," Logan laughs kinda uncomfortably in an interview with 60 Minutes. "And the truth is?," the interviewer asks. "It's accurate," Logan admits. "On paper, probably $1.5 to $2 million. But money is not something that drives me."
Reportedly, having 7 million followers can earn you up to $300,000 from a brand to endorse their product in one of your YouTube vids. And another $100,000 for an Instagram post.
WOAH!
Cameron Dallas admits that he's earned enough money to retire, but is far from doing so. As for exactly how much he makes? "Give us a ballpark," the 60 Minutes interviewer prods.
With his cute smile, Cam deflects, "I'm not good at baseball!"
Like Just Jared Jr. on FB