Thu, 17 November 2016 at 3:44 pm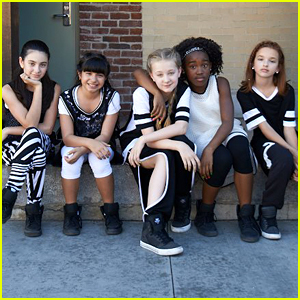 L2M just dropped the next episode of their Pop Shop!
In the ep, BFFs Mariangeli, McKenzie,Tati, Lexi and Jenna, take us backstage of their first ever concert. You have to check out it!
And if you haven't seen it, check out their new song, "B.E.A.T." right now!
JJJ also caught up with L2M and found out 10 Fun Facts about them all!
Check them out below:

1. We got to sing ALL the vocals and are on the entire LEGO Friends Girlz 4 Life movie. The cute little cartoons really look like us!
2. One of us studies boxing and another member of the group has taken Karate for years.
3. One of us is a championship level select softball player.
4. All of us are practical jokers – we love playing jokes and pranks on one another.
5. Two of us have performed on stage with Justin Bieber.
6. Three of us are really into tie-dyeing!
7. We all LOVE watching cartoons after long days of rehearsal to just unwind and be silly.
8. All of us really love musical theatre.
9. Two members of L2M are super, super neat freaks.
10. One member of the group collects those destination pennies — that you put in a machine and they flatten out with a stamp of a place you are visiting.

BACKSTAGE BUTTERFLIES! – L2M Pop Shop – Episode 6
Like Just Jared Jr. on FB