Mon, 21 November 2016 at 12:53 pm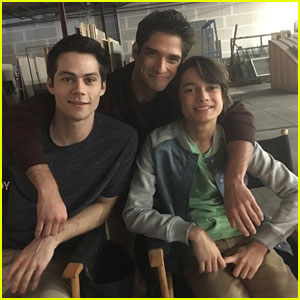 Did you catch Rio Mangini on last week's premiere of Teen Wolf?!
The 14-year-old actor, who you probably know best from Bella and the Bulldogs, plays Alex, a boy whose parents were abducted by a man riding a horse. They appear to have been erased from existence completely.
We caught up with Rio about how he got cast and what it's like working on the show!
"Teen Wolf has been my favorite show for a few years now," Rio told us. "I started watching when my friend Dylan Sprayberry started playing Liam. I couldn't believe when I actually got an audition for Teen Wolf! I didn't hear anything at first, but a few weeks after my audition, I saw a casting call for the parents that said, 'Actors must resemble Rio Mangini,' and there was a picture of me! I still didn't know I'd booked it."
"Working with Tyler Posey, Dylan O'Brien, and Dylan Sprayberry was a dream come true," Rio added. "I'm still so excited! When I was shooting episode one, we didn't yet know it would be the last season, so I wasn't sad, but I am now. The guys were so cool. We were like automatic bros. The set is dark and creepy, and I loved every minute.
Teen Wolf airs Tuesdays @ 9/8c on MTV.
Like Just Jared Jr. on FB