Wed, 30 November 2016 at 5:17 pm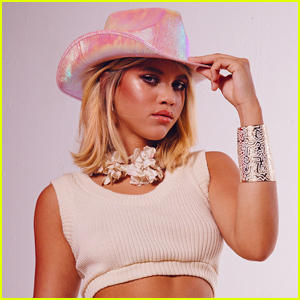 Sofia Richie channels some Western vibes in a photo from her shoot with Galore, available now.
The 18-year-old model opened up about her famous family, bad advice from friends and her beauty routine. Check it:
On living in the shadow of her dad Lionel and sister Nicole: "I mean I went through it for a really long time, just feeling really in their shadow, but I grew out of it. I tried to separate myself as much as possible, figure out what I liked to do and how to get it done my own way instead of having them consistently helping me out. It's a work in progress, but I'm trying."
On her beauty regimen: "I'm a freak about washing my face because when I work I have makeup on, then I take it off, put it on again, and I don't know what brushes are dirty so I'm a freak when I get home. I have my Lancer kit that I use every night, every morning."
On the worst advice she's been given: "One of my best girlfriends told me, 'You know what? The only way to figure out what you really want is to put it all out there,' and I don't know how old I was, I think I was like 10…I met this guy and she told me to just go up to him and tell him I really liked him. So I did, he shot me down, and after that I was like, yeah I think I'm gonna be a little more self-protected from now on."
For more from Sofia, visit GaloreMag.com.
Like Just Jared Jr. on FB