Fri, 02 December 2016 at 5:29 pm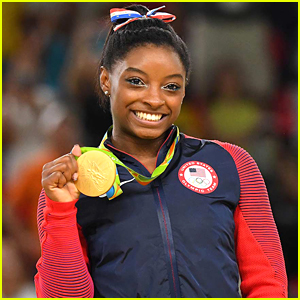 We don't know about you, but we would not complain about seeing Simone Biles in the 2040 Olympics!
In a new interview, the Olympic gold medalist (the most decorated female gymnast of all time, btw) opened up about competing in the 2010 games in Tokyo, Japan.
"Well, right now, yes, 'cause, like, you're on an Olympic high," she shared.
Simone adds, "You just– I feel like I could go to, like, 2040."
2040!? That would make Simone 43-years-old when those games came!
BUT, she still wouldn't be the oldest Olympian who's ever competed. Check out the list of older Olympians:
Oscar Swahn, from Sweden, was 72 when he went to the 1920 Olympics
Arthur von Pongracz of Austria was 72 when he competed in the 1936 Olympics
Hiroshi Hoketsu, an equestrian rider, was the oldest Olympic competitor at the London games in 2012, at 71
British rider Lorna Johnstone was 70 at the 1972 Olympic Games
Louis, Count du Douet de Graville, 69, competed in Equestrian at the 1900 Olympics
Lida Peyton "Eliza" Pollock, from the USA, was 63 when she participated in the archery competition during the 1904 games in St. Louis, Missouri
Oksana Chusovitina, a 41-year-old gymnast who competed in 2016 Rio Olympics this past summer
Like Just Jared Jr. on FB