Wed, 07 December 2016 at 11:09 am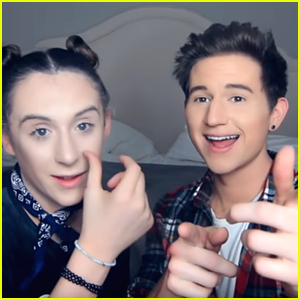 Trevor Moran and Ricky Dillon just shared the most epic story that if you didn't know them both, would say was totally made up!
Here's what happened: Last year, Trevor threw one of the most epic New Year's Eve parties, with Ricky in tow, and together they rented a mansion for the night, and despite only being allowed 100 people inside, had about 1000 come in and out throughout the evening.
"The night ended up getting crazy…people were throwing champagne against the wall and the glasses were shattering…" they dished in a new YouTube vid. "People flooded the rooms…someone broke into the master bedroom and he went into the Jacuzzi and cracked and shattered the Jacuzzi."
After all that, it kind of doesn't surprise us that the owners of said mansion decided to sue them! (Even though, Trevor and Ricky hired a cleaning service to make the home spotless and even pitched in on helping!)
"I get an email a week later…they said, not only are we keeping your [huge] security deposit, we're suing you for $50,000 for breaking the Jacuzzi, flooding the rooms, making the house look trash."
Find out what happened in the video below!

WE GOT SUED FOR $50,000 *NOT CLICKBAIT*
Like Just Jared Jr. on FB