Thu, 08 December 2016 at 11:16 am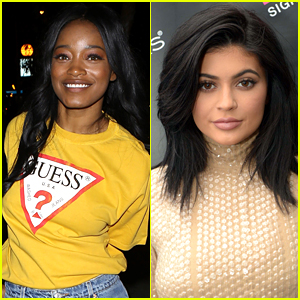 Keke Palmer wrote the most realest Instagram ever yesterday, coming to the defense of Kylie Jenner's transformation and blaming society for it.
In her lengthy post, the Scream Queens star writes of how society is to blame for Kylie's huge transformation in just over four years.
"After Trump's win, I really was convinced that we have become so obsessed with making things appear to be real than needing them to actually BE real. AKA: Reality ????, that's the gag," she writes. "Reality television is based off of the desire WE HAVE to see non scripted shows that MIMIC reality, 'false things appearing real' that's the ART of it, how real they can make us THINK it is."
Keke continues, "Looking at this photo above I couldn't help but stop dead in my tracks because even though I do feel like this family sets an example that it's good to change for societies affection, how can you blame them? We don't think that this young woman deserves the attention she receives because of the message it sends but we don't even think about the fact that for years the whole world damn near agreed that she was ugly.
"A CHILD, that girl was a child and she was bullied and named ugly and not as a character but as HERSELF … And unlike some that experience such ridicule she had the $$$ to change, she 'fixed' what the world said was broken and it worked! Now you are mad that it was that easy?"
Head to Keke's Instagram now to read the rest of her post.
FYI: Keke is also pictured out with Jhene Aiko for a dinner out in LA.
Like Just Jared Jr. on FB