Sun, 25 December 2016 at 5:04 pm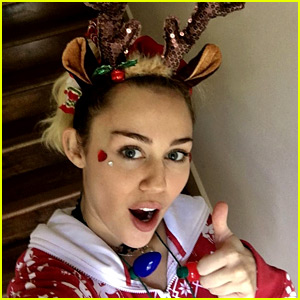 Miley Cyrus is telling her fans to call her the Grinch, but we don't think she deserves that title at all.
The 24-year-old entertainer has opened up about why Christmas makes her sad and her reasoning is touching our hearts.
"Call me the grinch but Christmas always makes me feel deeply sad," Miley wrote on Instagram. "It is filled with so much excessiveness & greed… I just hope everyone gives the gift of love and acceptance this year to not only their own family but those around the globe who don't get everything they wished for due to life's unfair circumstances! My parents always made Christmas about others and I hope you find it in your heart to do the same! @happyhippiefdn is what I am most thankful for this year because of the purpose it gives me. Without it I would feel so lost and useless on this planet! Thank you to all those who support our mission and I hope EVERYONE has a magically Merry whatever you celebrate!!!!!! #celebrateloveveryday."
Miley has also shared photos from her family's Christmas party and the pics include her fiance Liam Hemsworth, his brother Chris Hemsworth, and his wife Elsa Pataky.
Like Just Jared Jr. on FB