Mon, 09 January 2017 at 2:05 pm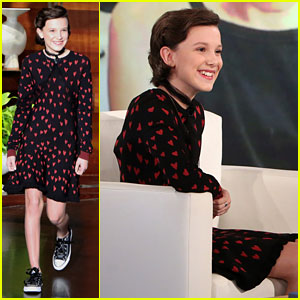 Millie Bobby Brown's very first sleepover with her pal Maddie Ziegler did not go as they planned!
The 12-year-old Stranger Things star recalled the story on The Ellen Show, which is airing later today.
"She is my best friend, actually – we are very, very good friends. We've only known each other for about five months now, and the first time I met her – you know, I am such a big fan of Dance Moms and her in general, she's so inspiring to me – and so when I met her, obviously I started crying," Millie told Ellen.
"So I go over and at like 3:00 in the morning the fire alarm comes on and we all had to get rushed out of her apartment building!" Millie continued. "And I'm crying, cause I'm like, 'My first sleepover is ruined!' And so we've been through a lot: fire alarms, The Grove … we're really good friends and we text each other every day."
Watch the whole interview below!
Like Just Jared Jr. on FB