Mon, 30 January 2017 at 1:29 pm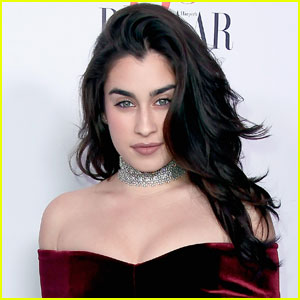 Lauren Jauregui continues to use her voice to speak out against Donald Trump.
The 20-year-old Fifth Harmony member just penned a new letter to the President, this time to oppose the controversial Muslim Ban he signed into order last week.
"Raise your hand if you are an immigrant, or the sons and daughters of immigrant parents, or the grandchildren of immigrants, or the great-grandchildren, or great-great-grandchildren?" Lauren started off the letter (via People). "Wait…are everyone's hands up—including yours, Mr. Trump—except for the Indigenous people of the Americas?! Because they should be."
She continued, "This country was built and continues to survive off the backs of immigrants and refugees. The term refugee in itself is such a significant word. These people are not terrorists: Many are escaping wars that we created in their lands. To tell another human being that the disastrous tortures of war are not important and to then go even a step further and insult their plight for freedom by labeling them 'terrorists' is just disrespectful to humanity. The only terrorism that both history and I have experienced has been at the hands of powerful White men who are willing to systematically kill and conquer without an ounce of empathy for anything but their pockets."
"We have to realize how important this time is," Lauren added. "My young people who understand and did not choose this for their future, the older generation who blindly chose to take this comfortable future we all envisioned away: We have never known war, we have never known the pain of discomfort, we have been privileged and promised into our moral oblivion."
WHAT DO YOU THINK of Lauren's latest open letter to Donald Trump?
In case you don't remember, Lauren came out as bisexual late last year in another powerful letter to Trump.
Like Just Jared Jr. on FB