Mon, 30 January 2017 at 6:30 pm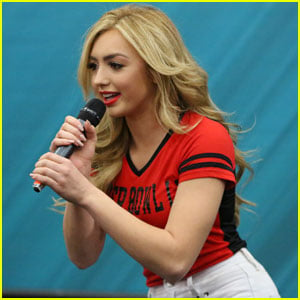 Did you know that Peyton List designed her own shirt for the NFL Juniors collection?
The 18-year-old singer/actress introduced the awesome tee at a VIP Pre-Super Bowl Concert on Sunday (January 29) in Houston, Texas.
PHOTOS: Check out the latest pics of Peyton List
We caught up with Peyton to talk all things football, Super Bowl parties, and t-shirt design. Check out our interview with her below!
Meanwhile, Jack and Jack were also there performing! Pics of them below too!
JJJ: Are you a big football fan? Who is your team?
Peyton List: I went to an L.A. Rams game with the NFL and it was awesome to go to a game where I live and have a team. Now that they moved to LA, I feel like have to be a Rams fan!
JJJ: Going into the Super Bowl, who are you rooting for and why?
PL: If I got tickets, I'd go! I don't really have a preference for the Patriots or the Falcons, but I'm definitely going to watch, especially for the half time show. I'm excited to see [Lady] Gaga perform. I feel like she always brings something special to her performances.
Click inside to see more of our interview with Peyton List…
JJJ: What's your favorite Super Bowl party snack or go-to food?
PL: My brother [Spencer List] always orders so many wings. I go for the mild with ranch. I also love pretzels with cheesy dip.
JJJ: How do you usually celebrate the game/who do you watch with?
PL: I watch games with my family at home, mostly my brothers. Last Super Bowl, my brothers actually made me go out and pick up all the food. They made me go to Hooters and get all the wings!
JJJ: Did designing this tee make you want to get more into designing or fashion possibly?
PL: Designing the Super Bowl LI shirt for the Juniors' Apparel Collection definitely made me want to get more into designing. I have even more respect for designing clothing now and all the work that goes into it, like the material and the cuts. I really didn't think about certain materials being more expensive or having to really budget fabrics or looking at certain colors specifically for the Super Bowl. Now, I go into stores and look at clothes with a new respect since I'm more aware of all the behind-the-scenes work.
Like Just Jared Jr. on FB