Wed, 22 February 2017 at 2:09 pm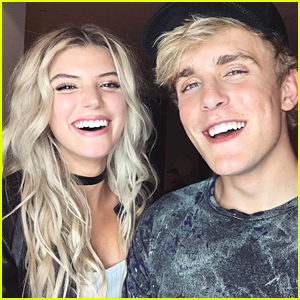 It looks like Jake Paul and Alissa Violet are over.
The two YouTube stars brought their breakup drama on social media, letting their fans in on what exactly went down between them to cause their split.
In the fight, which spans across multiple platforms, Jake and Alissa are both accusing the other of cheating on them.
"Alissa and I are having problems," Jake began in a now-deleted video. "I've been asking her to move out for the longest time, and she hasn't done it. And she technically doesn't live here, it's technically my house. And, like, I can't stand to see her face anymore, she's hurt my feelings and stuff like that."
He added, "I'm guessing she's going to make up a ton of stuff. [I'm] predicting it before it happens. She says she's going to try and ruin my life."
Alissa then claims that Jake threw all her stuff out of the house, which they share with other Team 10 stars.
"He threw all my stuff downstairs and put a lock on the door. Apparently, I don't live in here anymore. My stuff's, like, gone."
OR, is this all a prank for one of their videos? You tell us!
Click inside to see all the exchanges…
How could Jalissa be real when he had girl after girl over every single night in front of me?

— Alissa Violet (@AlissaViolet) February 21, 2017
Literally everyone knew how he treated me. All our friends knew how mean he was and treated me like property for his company.

— Alissa Violet (@AlissaViolet) February 21, 2017
He told me every day we weren't dating and didn't want to be with me.

— Alissa Violet (@AlissaViolet) February 22, 2017
The fact that he thinks I 'cheated' is absolutely hilarious to me

— Alissa Violet (@AlissaViolet) February 22, 2017
I think she is super talented & means well deep down,however I can't have her in my space after having my heart broken.We will work it out??

— Jake Paul (@jakepaul) February 22, 2017
lol you're kicking me out and telling everyone I cheated.. Please tell be how we're still "friends" after this ???????????????????? https://t.co/uumBrBtBTT

— Alissa Violet (@AlissaViolet) February 22, 2017
Jakes releasing new Jalissa merch and it's a picture of me crying with "Jalissa" crossed out. I feel so disrespected right now

— Alissa Violet (@AlissaViolet) February 22, 2017
Like Just Jared Jr. on FB