Mon, 27 February 2017 at 6:00 pm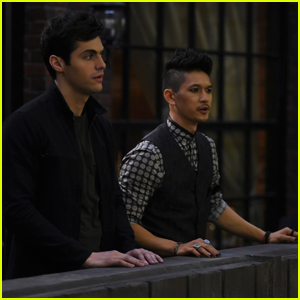 There are more romantic moments between Magnus (Harry Shum Jr.) and Alec (Matthew Daddario) coming up on Shadowhunters.
Harry is assuring fans that #Malec will go through some ups and downs, but you'll see some sweet romance too.
"I think their relationship is growing stronger and when it grows stronger, you're also going to have different mindsets on how things are dealt with that they need to figure out just like any relationship," Harry told TVInsider.com. "I think it's just cool that the fact that they're acknowledging they're boyfriends and the fact that Alec came to Magnus and was like,'"Look, this, what we have right here, it's not going anywhere,' and for someone to say that, I think that's a big deal in any relationship."
Harry added, "Oh, definitely you'll see romantic moments. One thing I'll say to that is that the cast, the writers, and the producers, we all care about all the relationships and we all always champion the idea of showing the progression of the relationships. Specifically for Malec, and I can speak for Matt, we always try to play it as real as possible. There will be a lot more romantic moments coming up while trying to battle Valentine and hopefully not getting killed in the process!"
Shadowhunters airs Mondays @ 8PM on Freeform.
Like Just Jared Jr. on FB