Tue, 07 March 2017 at 3:11 pm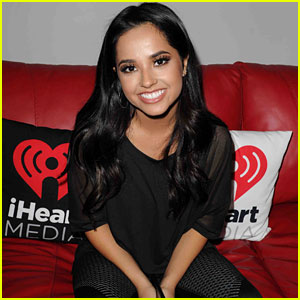 Yesterday was a busy day for JustJaredJr. Not only did we dance the night away at a secret Ed Sheeran concert in New York City, we celebrated the upcoming Power Rangers movie with Becky G and RJ Cyler in Florida.
When radio station Y100 invited us to spend the afternoon at their exclusive fan event, we jumped at the chance.
Becky G — who plays Trini Kwan, the yellow Power Ranger — got emotional when we asked her what it was like to get the call from producers telling her she was cast in her first big feature film.
"My initial reaction was to cry," the 20-year-old star confessed. "And I don't cry often!"
She added that the hardest part of prepping for the role was the diet. "Honestly, I was mad I couldn't go to KFC," she joked, "which I still do!"
Inside, Becky G tells you the heart-wrenching reason she ended up sobbing during the filming of the movie…

We asked her what her favorite part to film was, and she said it was a scene she totally relates to in real life, being a young person.
"There is this breakthrough moment for all the characters, especially mine, where we 'shed our masks' and we say things that we might've never said out loud before about ourselves," she explained.
Becky G continued, "My character has a lot of inner conflicts, and she's just kind of confused and figuring out where she belongs in the world. I got super emotional after we finished filming my part, and I started crying and our scriptwriter came over and gave me a hug and said 'I'm really proud of you for bringing out this moment for your character alive.'"
Aww! We can't wait to see this movie and that moment come to life.
What has you the most excited about seeing Power Rangers? Let us know in the comments why you can't wait until March 24, when the movie hits theaters!
Like Just Jared Jr. on FB