Thu, 09 March 2017 at 4:00 pm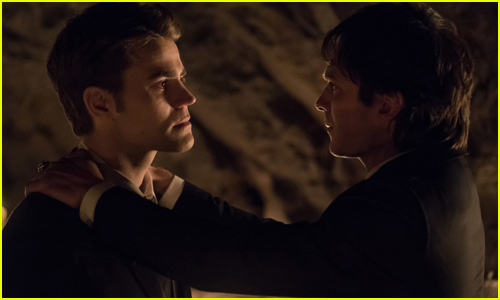 It's hard to believe that The Vampire Diaries will air its final episode tomorrow night after eight years on our television screens.
We're definitely not ready to say goodbye to our favorite Mystic Falls residents, but we're excited to see how the story ends.
We caught up with executive producer Julie Plec, who gave us some scoop about what we can expect in the final hour. Check it out below.
Don't forget – The Vampire Diaries series finale airs Friday, March 10 @ 8PM on The CW.
JJJ: You and [fellow EP] Kevin Williamson had written an ending to the show years ago. Did you deviate from that at all? And if you didn't, were you temped to?
Julie Plec: We did deviate from it, plot-wise because things change over eight years, not the least of which is Nina leaving after season six, which made certain things difficult – in terms of getting ourselves to that ending, what we had planned. But mostly I think, we landed in season two where we had the epiphany of an emotional response we wanted to evoke when we brought the series to a close, and we absolutely stayed true to that.
JJJ: At what point did you decide to kill someone off in the finale? Tell me about that decision.
JP: It just sort of felt that when you're dealing with life and death things – in this case, will Mystic Falls burn? Will it survive? – someone is going to have to be murdered in the fight against the bad guy. So there were a lot of discussions about who that should be. And the choice of who it was, was made entirely out of character, bringing a character full circle to its proper conclusion.
Click inside to read more of our interview with TVD's Julie Plec…
JJJ: Damon and Stefan have sacrificed so much over the years, and have fought a lot of their own demons. What can we expect from the ending of their story as brothers? Can these two have a happy ending?
JP: It depends on how you define happy. I think the brothers have come a long way from being human to now this final episode. There's been a lot of ups and downs along the way. And certainly what we're able to [show] is the understanding of the true, deep undying love between the two of then. And so there's satisfaction, definitely, in that relationship.
JJJ: Nina Dobrev is back for the finale. Are we definitely seeing both Elena and Katherine? No mind-trickery?
JP: We will see both Elena and Katherine in the finale.
JJJ: I've been worried about Matt and Alaric lately. So much sadness in their lives. What can you tell me about the ending to their stories?
JP: Without giving too much away, our goal was for every character – living or dead – to give pieces to the window of their future, whether that future is practical or spiritual. So yes, you'll certainly get a sense of closure for everybody, including Alaric and Matt.
JJJ: And you fit all of that into 44 minutes?!
JP: It was a really difficult effort, but we did. And it's funny, as much as I wish it could be longer, of course, it actually hits its mark in terms of completing the stories and giving a sense of finish. I'm so proud of it.
JJJ: In terms of callbacks, will we see music, dialogue, flashbacks…
JP: Yes, yes, and yes. Starting with the title, some music cues, familiar faces, whole lines of dialogue. It's an Easter basket of fun.
JJJ: As a writer, looking back, which episode or moment are you most proud of?
JP: I really loved, for myself, the finale of season three. As a writer. I really put a lot of thought and care into that episode, wanting it to go into the history books as one of the best finales of the series. And I think it delivered on all the levels it needed to deliver. Between that and – I'm proud of every episode I wrote – [season 4, episode 15] "Stand By Me," which was something that was really near and dear to me. The way it was acted by Nina and the way it was directed by Lance Anderson, everything about it was perfect. I loved it.
JJJ: What did you take from set on the last day of filming? Anything good?!
JP: No! The prop guy offered me my pick of any nostalgia items that I might want to take home with me. And I couldn't think of anything. Eveyrthing is so much apart of the experience and I actually ended up walking away with nothing.
JJJ: Finally, what will be the biggest takeaway emotion from the finale. Will it be hope? Closure? Mystery?
JP: It's all of the above. It's heartbreak. It's hope. It's happiness. It's sadness. It's definitely a clear sense of the future for many characters. It should feel like the end of a nice, beautiful, long novel that you're finally bringing to a close.
The Vampire Diaries series finale airs Friday, March 10 @ 8PM on The CW.
- Reporting by Sharon Tharp (@sharontharp)
Like Just Jared Jr. on FB