Mon, 13 March 2017 at 11:48 am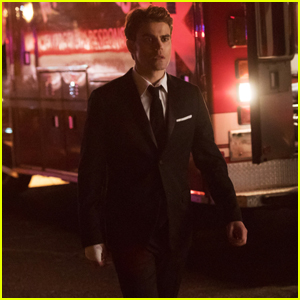 The Vampire Diaries wrapped up the series into a pretty (bloody) bow this past weekend during the finale.
But that's not actually how things were supposed to end. Back in season two, executive producers Julie Plec and Kevin Williamson had a different ending in mind.
Instead of – SPOILER ALERT! – Stefan (Paul Wesley) dying, both Salvatore brothers were originally going to die for Elena (Nina Dobrev).
"We had fallen in love with this series and this story about two brothers who loved the same girl and the love triangle was kicking into high gear, we said to ourselves: When all is said and done, when this show is over, both brothers should die in the name of saving their girl and then be watching her like ghosts," Julie told EW.com. "Because we had introduced the Other Side – as she went off into the sunset to live her life and maybe marry Matt Donovan (Zach Roerig) or maybe become a doctor, but that those brothers would be side-by-side watching her live. That was the thing that made us cry all the tears in season 2."
That's right, Elena was going to end up with – Matt! But things changed once Nina left the show at the end of season six.
"I felt like we had to make a commitment to seeing Damon (Ian Somerhalder) and Elena through to the end," Julie explained. "If Nina had never left, I would've loved to have been able to see if Stefan and Elena could've found their way back to each other. I don't know if they could have, but had that departure not been a part of it, the long game would've been to see if we could bring the love triangle back around before the series ended and really leave a choice. But her departure sealed the romantic contract between Damon and Elena. In that moment, to me, the show ceased to be about a love triangle and became a show about the power of these brothers and their love for each other. And so there was no way in hell I was killing both of them and leaving neither of them with the happy ending. It just was never going to happen."
So Stelena may have found their way back to each other…interesting!
WHAT DO YOU THINK about the original ending vs. what happened in the finale?
In case you missed it, be sure to check out our interview with Julie!
Like Just Jared Jr. on FB