Wed, 15 March 2017 at 12:36 pm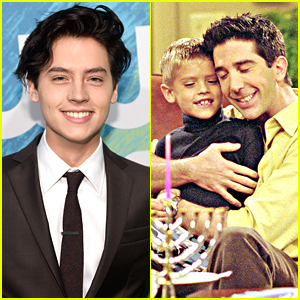 Cole Sprouse is more than just Jughead Jones on Riverdale, and more than Cody Martin on The Suite Life series.
Did you also know that he was on Grace Under Fire, Big Daddy and Friends?
Speaking with the NYPost recently, Cole opened up about his first jobs in front of the camera when he was super young.
"Yeah, actually," he says of being recognized from Friends. "[It's] on Netflix, there's a renewed interest from that. Having responded to a Disney show for such a long time, people can call me 'Ben' on the street and I will turn around."
He adds, "It's a funny little process. Now people are calling me Jughead – it's a strange feeling when you start getting called something new."
Cole also remembers working with David Schwimmer, Jennifer Aniston and the cast.
"The scale was just tremendous and you felt it when you stepped on set, even as a kid," he said of the set. "It was challenging because I was a small kid who was working with these sort of megalithic actors at the time."
"It was quite intimidating. But it was a really wonderful experience. They were all tremendously nice."
Like Just Jared Jr. on FB