Sat, 18 March 2017 at 5:00 pm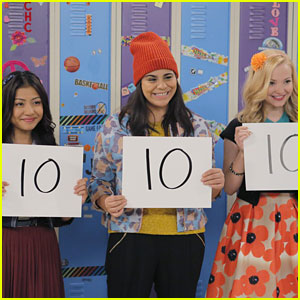 John D. Beck and Ron Hart can not make up their minds one bit!
The Liv and Maddie showrunners have so many favorite episodes that they can't pinpoint just one that they love the most.
"A lot of episodes come to mind. 'Rate-A-Rooney' comes to my mind first, everyone loved that. The story was so powerful with the rating female body image. There was Joey and Parker splitting up their room there too," John shared off the top of his head.
He continues, "The pilot, the season three finale, Patty Duke, 'Space-Werewolf-A-Rooney'… and the series finale too. 'Voice-A-Rooney' is extremely powerful…I really didn't think we could do better than the season three finale…"
However, he does love the series finale a lot.
"When we get to 'End-A-Rooney', everyone around were just very satisfied with it, and we're hoping that our incredible fan base feels the same way. We try to answer as many questions that have been brought up throughout the series and give everyone a nice, emotional goodbye to a family they've spent the last four years with."
"I have such a hard time separating them," Ron admits, but it looks like he's on board with John about the finale.
"I think that the way the series does ends for me was just so satisfying, personally and emotionally, that it really stands out as my favorite."
TELL JJJ: What is your absolute favorite episode?
Like Just Jared Jr. on FB