Mon, 20 March 2017 at 3:18 pm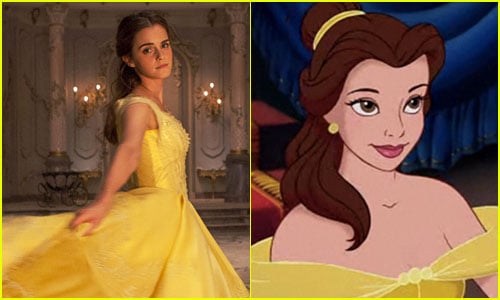 Beauty and the Beast is one of Disney's best animated classics, and we won't even tell you how many times we saw Emma Watson's live-action version this weekend.
We weren't disappointed. Not only does the new film live up to the animated version's magical, beautiful nature, but it far surpasses it, most notably in the character of Belle.
Belle has always been unusual for an old-school Disney princess: She loves to read, she's brave, and she's fiercely independent. Still, Emma's version is even better: she plays the character as stronger, quirkier, and with even more resolve.
Here are 8 ways Emma's Belle is superior to the original. Naturally, we save the best for last!
Click inside to see how Emma nails Belle in every possible way…

1. She's an inventor
Emma's Belle doesn't just have an inventor father; she is even better at it than he is. She helps him find parts, works on her own creations, and invents a washing-machine device, which is super impressive.

2. She's cleverer
Belle was smart in the original animated classic, sure. But she wasn't trick-my-father-into-hugging-me-so-I-can-forcibly-take-his-place-in-this-cell smart. Emma's Belle uses her wits to take her father's place, even though she has to trick him to do so.

3. She tries to escape the castle
More than that, we think she could have. Emma's Belle uses an elegant gown as a rope to escape out the window, and she probably would have done so quite effectively had she not decided to go to dinner with the dishes instead.
4. She doesn't wear a corset
The original Belle wears a wrinkle-proof dress with impractical shoes as she prances through her French village. Emma's Belle's outfit is far more worn-in, noticeably missing a corset (which is unusual for the time period), and she even wears practical shoes.
5. She's an advocate for literacy
The new Belle not only reads, she teaches a little girl to read who she sees in the village square. The girl's father is furious when he sees this, demanding: "Isn't one girl who can read enough?" No, sir. No, it is not.
6. She's a feminist
This tendency to break the rules also reveals her staunch feminism, especially striking for the time period. She believes that girls should be able to read, and that girls should be able to reject any guy they want to.
7. She rejects the customs of her town
Emma's Belle also doesn't want kids right away, or even a husband. She empathizes with the town "hag," who never married, and she would rather be single than settle down with a family.

8. She calls the Beast out
This is our favorite one. Emma's Belle is not afraid of the Beast at all, and she frequently calls him out for his behavior. She refuses to eat dinner with him, calls him rude, rolls her eyes, and asks: "Really? Are you making jokes now?" when his personality begins to evolve. She can totally hold her own.
Do you agree? Let us know on twitter (@justjaredjr).
Like Just Jared Jr. on FB