Mon, 20 March 2017 at 11:30 am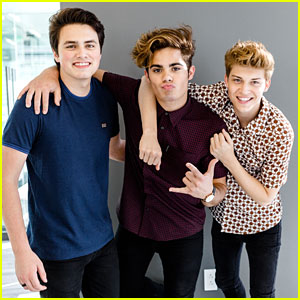 Prom season is here and it's usually all about the girls — but what about the guys? Guys go to prom too!
In fact, Forever In Your Mind is looking forward to prom season — especially Liam Attridge, because he's hopefully going to his first this year.
JJJ is all about the girl finding that perfect dress, and the FIYM guys are telling guys everywhere to listen to them on what they should wear to the big dance.
"Do what your date wants you to do because it's not about you," Emery says about it all.
Liam adds, "Consult your date so you know what she's doing. You don't want to show up in two different colors!" So, no blue tuxes!
Ricky too, is all about the matching game and talking with your date: "Try to match with your date. Match your pocket square with her dress and corsage."
Click inside to find out just WHO Forever In Your Mind would take to prom…
As far as dream prom dates go, Emery is reaching for the big stars: Selena Gomez or Cara Delevingne.
Liam is definitely taken, and could only imagine taking his girlfriend of many years, model Brookelynn Elizabeth.
But for Ricky? "One of our fans. We get invitations and I've always wanted to go, but sometimes they're across the country and it's hard to do," he says.
So cute!
Like Just Jared Jr. on FB