Tue, 21 March 2017 at 3:00 pm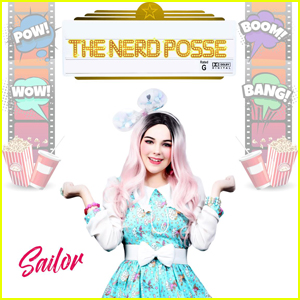 Merit Leighton is telling us more about herself.
The 14-year-old actress voices Lucienda the Witch in Disney Junior's Sofia the First and now she stars in the new series The Nerd Posse.
"The Nerd Posse is a project about standing up for yourself and being exactly who you are because 'It's weird not to be weird,'" Merit told us. "It's a crazy bunch of programmers, gamers, anime, comic loving misfits, played by a group of super talented actors: Ben Stockham, Jacob Hopkins, Marlowe Peyton, Zoe Fowler, Izzy Eggerling, and the amazing Andrew Bowen."
"I play Sailor Greyson a kawaii app programer who is also wildly obsessed with Cosplaying, Anime and Kpop!" she added. "I had so much fun with this character, and filming with this fantastic cast at the historic "Silent Movie Theater" on fairfax. It was a really cool experience."
Check out 10 fun facts Merit shared with us:
1. When I was 12 I watched all 200 episodes of the original Sailor Moon within 6 months! My wish is that one day I get to voice Sailor Moon!
2. Benji is my nine-pound rescue dog and he is quite the little troublemaker! He managed to survive eating a razor, I swear he's immortal.
3. I try to eat healthily, but I always fail because of my wicked sweet tooth. For instance, over the course of a month, when I was little, I ate an entire pound of straight sugar by the spoonful.
4. Whenever my boyfriend Jacob Hopkins and I go to the bookstore, we head straight to the Manga section. We spend hours reading Manga till they kick us out.
Click inside to read the rest of the facts Merit shared…
5. K-Drama's are my newest addiction, my favorite at the moment is "Scarlet Heart: Ryeo"! I also have been sucked into the black hole known as K-Pop.
6. Petticoats are like my heaven and I have started collecting them. They're so cute and fluffy~ It feels like you're wearing a giant marshmallow!
7. I'm learning Japanese! I really love all Asian languages and culture, and I hope to learn Korean and Chinese as well.
8. At the age of 6 my doctors said that I was legally blind in my left eye, with lots of therapy, patching and great doctors I got back most of my vision by the age of 9.
9. The black and white classic, mystery-thriller The Bad Seed is my favorite movie. I love storylines with lots of unexpected plot twists! Once Upon a Time is my favorite TV show for the same reason.
10. I've always wanted to be a YouTuber, but it took me a lot of time and brainstorming to finally pick a username. I decided on "KawaiiHappii" ~ Kawaii means adorable/cute in Japanese because I'm obsessed with cute things, and Happii (Happii is how you would spell Happy in Japanese syllables.) because I love being happy and making people smile!
Like Just Jared Jr. on FB