Wed, 22 March 2017 at 10:39 am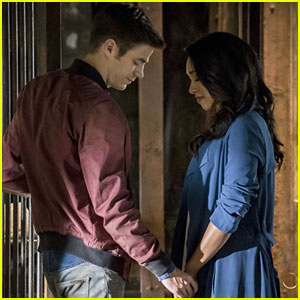 If you missed last night's episode of The Flash, we suggest you go back and watch it right now!
Turning both The Flash and Supergirl into musical episodes was brilliant and we hope it happens again somewhere down the line — but first, let's talk about how Iris and Barry are engaged again!
Towards the end of the episode, the couple worked out their problems and ended up with Barry singing his proposal to "Runnin' Home To You".
"That song is beautifully written," Candice Patton shared. "When we got to rehearsal for the first time, I was just already in tears. I was like, 'Dang it, I should have saved it for when we were rolling!' But the great thing about that song is that every time you hear the lyrics, you get emotional."
Grant Gustin added, "I think music in storytelling really elevates the story, when it's done successfully and correctly. I think this is a near perfect song. I was privileged to sing it."
So what about Iris and Barry's wedding plans? Click inside to find out!
With Iris saying yes again, it's obviously time to plan a wedding!
"I can't wait to maybe wear a wedding dress on TV. I don't think I've ever done that," Candice says. "But we've been moving things so far — in terms of WestAllen — so fast that maybe we can just slow down on the wedding."
Slow down? You're on a show called The Flash!
Candice adds, with good reason, "Maybe next season or end of next season…We've got to make sure [Iris] is alive!"
Like Just Jared Jr. on FB