Thu, 23 March 2017 at 2:00 pm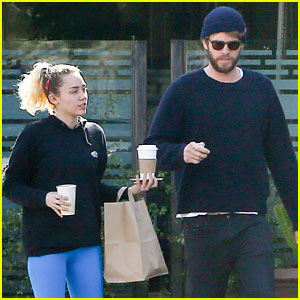 Miley Cyrus had tongues wagging again, but this time it wasn't her fault, lol.
Her loving dad, Billy Ray Cyrus, posted a sweet picture on his Instagram with the caption "I'm so happy…you are happy @mileycyrus."
Perhaps it was the pure look of joy on Miley's face or the breathtakingly blue sky behind her or the fact she is wearing a white embroidered top, fans immediately jumped to the conclusion that she and Liam Hemsworth had gotten married.
Miam fans were ecstatic.
Billy Ray, realizing that the picture was causing confusion, was quick to repost the same picture with the caption "Whoa! Don't jump the gun. Been at work #StillTheKing Glad to see so many love @MileyCyrus the same as I do #happy."
We still wouldn't put it past Miley to get secretly married, but then both Miley's mom, Tish, and sister Brandi made some pretty definitive comments.
Click inside to see what Tish and Brandi confirming Miley didn't get married AND what she would get married in…
Tish told ET that she and Brandi were baffled by the response to the picture. "I looked at the picture, and I'm like, Brandi was like, 'Why was everybody thinking that?!'"
Even though the shirt was white and slightly fancy looking, the two insist it would definitely not be something Miley would wear to get married in.
"She would have had some fabulous wedding dress, not just like frilly top she was wearing in a photo," Brandi added.
Brandi should know. She and her mom just launched the home makeover show Cyrus vs. Cyrus: Design and Conquer, and they'd design a killer wedding!
Sigh. Guess we'll just have to wait for the real deal.
Like Just Jared Jr. on FB