Fri, 24 March 2017 at 9:00 pm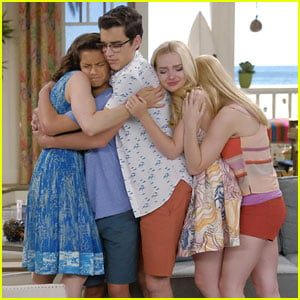 SPOILERS AHEAD! DO NOT READ IF YOU HAVE NOT WATCHED!
The Liv and Maddie series finale just aired and JJJ hasn't stopped crying once!
In the final episode, we watch as the Rooney kids — Liv, Maddie, Joey and Parker — scramble to find solutions to their summer plans so they can spend it with their mom, Karen, before she returns to Wisconsin.
Remember, DO NOT click inside if you have not watched the series finale!
But if you do want to find out, have those tissues handy!
(Click inside to see what happened on the series finale of Liv and Maddie…)
– Liv, Maddie, Parker, Joey, and their cousin Ruby are hanging out and sitting on the couch and the siblings remember times when they were like this and family meetings were called. They spoke too soon and one is called by Karen.
– Karen declares it's the "Summer of Rooney", before they all go their separate ways in the fall. This makes Joey and Parker break out into a little song and dance, with the others joining in
– Liv and Willow get some exciting news about the basketball team and plan to practice all summer at training camp to make the starting lineup for SCSU next fall. She's so excited that she punches the next person she sees — Diggie!
– Diggie will be attending SCSU this fall for sports broadcasting.
– Dump Truck is also with him, moving him out to the west coast. He started his own moving company called "Dump Truck Trucking".
– Willow grabs their attention with the news of a trampoline in the backyard. Diggie called dibs on it first.
– All the good news for Liv gets better, before getting worse. She gets an official letter saying she got a federal grant to go build tiny houses for the homeless in New Orleans. The problem? It's for the summer and it starts almost immediately.
– Parker hears from Val that their biodome tenure starts almost immediately too, after the location is moved from Los Angeles to the Bolivian salt flats.
– Parker is still working on his flirting game with Val, failing to really impress her again. Val says what we all know to be true: "Boys are weird".
– On the Sing it Louder set, Liv has packed up all of her dressing room when she's welcomed by a visit from her manager Becky. She tells Liv that the Broadway musical she auditioned for wants her as the lead
– The play is called "Double Dutchess", the story of an heir to the English throne who disguises herself to enter a double dutch competition in NYC. "It's basically Hamilton, but with jump ropes".
– Liv starts to worry about season two of the TV show, but Becky informs her the play is just for three months and she can still do season two. The catch? She leaves tomorrow.
– Joey gets the opportunity to be the opening act for comedian Jim Breuer on his summer comedy tour, which is Aunt Dina already knows about. However, Joey thinks she's now a wizard for knowing that.
– He starts to worry about mom Karen's "Summer of Rooney" and he should be — because she made t-shirts.
– Joey is talking to the cameras when Dump Truck notices and learns that for the past four years, the family has been filming a reality series that airs in Luxembourg, called "Bits and Pieces".
– "Not sense learning Diggie and Artie was brothers has my mind been so blown", Dump Truck says.
– Dump Truck realizes he might've been talked about in this series and proceeds to yell at the camera operators (Dove's mom, Parker's dad) in French.
– Maddie tells Willow about the grant and Willow realizes what it means for their training camp plans. Maddie chooses to give up basketball and the camp to go to New Orleans for the tiny house movement.
– She realizes that this is her calling in life: "I think this is something I want to do for the rest of my life"
– She tells Willow that she'll be back supporting her when she's a starter next season and the BFFs have a super teary moment that makes you wish you had a friendship that strong.
– Joey finds Dump Truck in the kitchen of the house, watching the entire series of "Bits and Pieces" and he's crying over "Rate-A-Rooney", before calling the show binge-worthy. We'd have to agree with you there Dump Truck!
– After Dump Truck says he's anxious to get to the California part, Joey starts to panic, because he based his alter ego Falcon after him.
– Liv catches Parker trying to hoist the fridge up the stairs in order to get grounded so he'll miss going to the biodome.
– Parker reveals that he's scared to go because he's never been without the family before and Liv gives him some advice because she's done it before.
– "If it's anything i learned, it's that our family will always be there for you — no matter where you are or how long you're away."
– "If you're dreams aren't scaring you, you're not dreaming big enough".
– Liv asks to say "Challenge Accepted" with Parker and it's just about the cutest thing on the show so far.
– Maddie tells Diggie about her grand and New Orleans. She's bummed because they won't be spending the summer together.
– Diggie doesn't get it because he can go with her to New Orleans. "Wherever you are, is where I want to be."
– Maddie says she loves him — Digbert Smalls. What a name!
– Dump Truck interrupts their sweet moment and claims he liked Josh better. "Team Josh forever".
– He goes on to find Joey and confesses that he loves Falcon. While Joey was worried that he would think he ripped him off, Dump Truck assures him he didn't: "You can't do me, better than me".
– The "reality show" cameras cut to Dump Truck then, and he says goodbye: "Au revior Bits and Pieces. You are too beautiful for this world."
– Liv and Maddie tell each other what's happening with their summer plans and tears come between the two twins.
– Parker and Joey find them, instantly giving them a hard time about it all and mocking their "sisters by chance, friends by choice", complete with a fake cry.
– The kids all realize that the summer plans they had are all axed because of new plans that came up and have a freakout between them all in just how to tell their mom.
– However, Dina and Ruby have already dealt with that and spilled the beans to Karen.
– Karen's moment is the moment that will truly get you: "The greatest gift a mother can get is knowing she raised her kids to be confident enough to pursue their dreams. Watching you guys become the wonderful people you've become has been so inspiring. So, remember wherever you go, may your dreams always be big and your worries small. I love you guys."
– The Rooneys realize they can at least have one last night together before everyone starts to leave, so they have a campfire.
– Maddie says "Bam what" one more time and our hearts just broke into a million pieces…but not before Liv sings "Better in Stereo" at the campfire.
Like Just Jared Jr. on FB