Thu, 30 March 2017 at 6:40 pm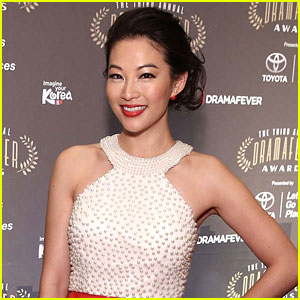 You guys, don't call someone yellow. It's racist, hurtful and such a dumb thing to say in the first place.
Unfortunately, many of our fave Asian actors have dealt with that kind of racism for their entire lives and Arden Cho just bit back with possibly the best essay and coolest photo shoot ever.
"Someone once told me I shouldn't wear yellow because I'm yellow and it's not going to be flattering on me," she writes — UM, WHAT?!
Arden continues, "I think I might disagree. I might actually like yellow on me. Sometimes it's best to take someone else's opinion with a grain of salt."
"I'm working on listening to myself more and caring less about the opinion of others. Especially when it's racist, I'm not actually yellow. I think I hear things like this so often it doesn't even phase me anymore. I don't think that's a good thing, it shouldn't be normal."
Arden, and other Asian actors, shouldn't have to hear this at all!
But, she's looking past the comments and embracing herself as she is…which is gorgeous and amazing.
"Took me 30 years to be comfortable in my own skin and most my life I felt like I was an alien. I never felt like I fit in or I belonged. I'm not sure when that started to change but I know the last few years have been about embracing who I am. Loving myself, even the flaws.
"Don't judge yourself because you're different."
Like Just Jared Jr. on FB