Thu, 30 March 2017 at 12:19 pm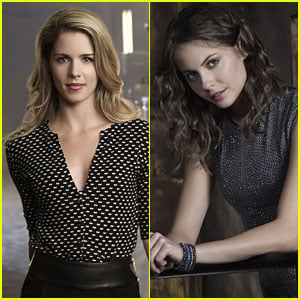 Arrow has almost turned everyone who's been on the show into a villain or superhero by now, haven't they?
There's just one character who's the odd ball out — Felicity Smoak — but don't get your hopes up that she'll become one on the show.
"There's two lines in the sand that I've drawn for Arrow for myself," EP Marc Guggenheim shared with EW. "I can't speak for Greg [Berlanti] or for Wendy [Mericle], but for as long as I'm involved with the show, the two things I never want to do is kill off Thea and put Felicity in a mask and a costume."


"Those, to me, are two lines that I just think are a bridge too far."
However, we did see Felicity as a tech-based superhero on the most recent episode of DC's Legends of Tomorrow – where the team actually created an alternate world.
He explains his reasons: "Thea, because we've taken so many family members away from Oliver, and Felicity because when you put a character like that in a costume, I think it diminishes who that character is and it makes the idea of superheroics seem silly."
I think we're all good with Felicity being the anchor of the team, yes? And even more, keeping Thea around? Most definitely yes.
Like Just Jared Jr. on FB