Mon, 03 April 2017 at 4:00 pm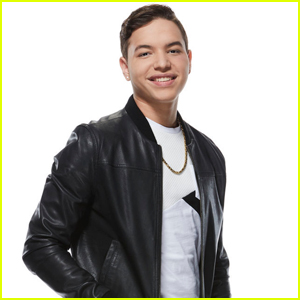 If you're watching The Voice this season, there's no doubt you have your eyes on Mark Isaiah.
The 19-year-old singer, who is on Team Adam Levine, is certainly one of the frontrunners after impressing the coaches with his blind audition and his epic battle round.
We caught up with Mark to talk about why he tried out for the show, what he hopes to bring to his performances, and more. Check it:
The Voice airs TONIGHT, TK @ 8PM on NBC.
JJJ: What made you audition for The Voice?
Mark: Ever since I was a little kid, I always had the dream of becoming an artist. I actually [first] auditioned for The Voice when I was 17 years old, just because I always wanted the rush of performing in front of millions of people. But I didn't make it past the second round before [the blind auditions]. I wasn't ready so I went again. Now that I'm here, it's been amazing experience.
JJJ: You sang Shawn Mendes' "Mercy" for your audition. It's not an easy song to sing! What made you pick that one?
Mark: That song has been blowing up lately and a lot of people like it. It's just a song that showcases different parts of the vocals, just the soft part and the strong part. I think that was a really good song choice for me, just to show what type of genre I sing as well pop, r&b, and soul.
JJJ: Did you always plan on choosing Adam as your coach?
Mark: I actually was going in with the mindset of either Alicia Keys or Adam. I didn't get Alicia to turn, but Adam was a great choice. He really convinced me. I'm really looking forward to working with him and getting to know him. It's going to be an awesome ride.
Click inside to read the rest of our interview with Mark Isaiah…
JJJ: When did you start singing? Did you take vocal lessons growing up?
Mark: I've actually never taken vocal lessons, but I've been singing since I was three years old. I've always sang at church and that's where it really started – worshiping at church when I was really young. My parents always took me to these open mics and karaoke. I was always involved in music. It just runs in my family. So ever since I was little I always had that passion inside me.
JJJ: What does your family think about all of this now that you're on TV?
Mark: Oh man, it's so surreal. It makes me feel so happy and proud. My parents had me at a very young age, so they didn't get the chance to pursue their [own] music careers. They had to focus on providing for me and taking care of me when I was younger. So they just focused on college and getting money…I just feel like I'm carrying out the dreams they never got to accomplish. It just makes me super happy that I'm taking this initiative to become an artist.
JJJ: Who are some of your biggest musical influences?
Mark: My biggest musical influences have to be Michael Jackson, Usher, Chris Brown, Justin Bieber, Allen Stone…those are my main artist.
JJJ: Are you hoping to show off more than just your pop side?
Mark: I'm looking forward to showing every part. There's just a lot for me to show. That was just a little part. I feel like America still hasn't seen everything yet. I do want to show my r&b and soul style too. I don't want to attract just one group.
JJJ: How has the fan reaction been on social media?
Mark: It's crazy. I'm surprised I'm still getting followers. I didn't expect it to get like this. It's just amazing how much support I'm getting. The love has been amazing.
JJJ: What do your friends at home and from school think about all this?
Mark: They're all super excited. My friends always believed in me from the beginning. I've always had that drive inside of me. And I never got it out there because my self-confidence and self-esteem wasn't really high. I was overweight and not feeling my appearance. I took the initiative to work on myself and work on my mind.
JJJ: You opened up about your struggle with your weight on the show. What made you want to share that?
Mark: I feel like the way I dealt with that…there are so many people out there who are dealing with the same thing, or worse. I just want to give hope to other people. That was the main goal, just allowing other people to see that they can do it, no matter what. Just go out there and pursue your dreams. Just overcome it and try to be the best you can be.
JJJ: We've seen some big stars come on the show to sing with the contestants. Who would you dream duet be with?
Mark: My dream duet? Oh man, that's a tough one. It would have to be Usher or Justin Bieber, honestly. I feel like me and Justin Bieber would make a collaboration. People would love it and it would just blow up. That would be amazing. Or Bruno Mars. One of those.
JJJ: What do you like to do for fun in your free time?
Mark: I just like to play a lot of sports. I like to just sit down in my room and grab my piano and write songs. I like to take time to myself and do all the music, hang with friends, and play basketball. I love pool. I play pool all the time.
Like Just Jared Jr. on FB