Wed, 05 April 2017 at 6:08 pm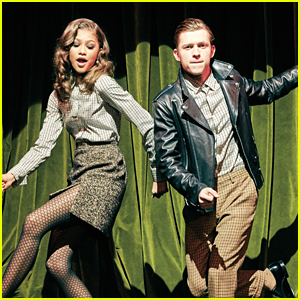 Tom Holland is all about what Zendaya stands for.
The Spider-Man: Homecoming star spoke about his co-star, who plays Michelle in the upcoming film, and it's almost perfect.
"Michelle is a very interesting character. She's very quiet, and she's always reading these crazy books, like 'How to Murder Someone without Anyone Knowing' (laughs)," Tom revealed about Zendaya's character. "It's a very fun character, and Zendaya has really brought a lot of herself to the character, and yeah it's been really fun working with her on set. It's been really cool."
He also opened up about the backlash Zendaya recieved when everyone thought she was going to be playing Mary-Jane Watson, a traditionally white character.
"The thing with Zendaya is she knows that," he says. "From being on set with her, everyone is always complimenting everyone, and everyone is very loving here. That's what I love about working for Marvel is how welcoming and kind everyone is."
"She has such a large following on Instagram, and the majority of those people are all for her and love her, and I feel like our generation of people are moving on from that. This whole, you can't cast someone who's not of the right race for a character and such, and I really feel like we're breaking through and changing that."
Tom added, "Z is perfect. She's so strong willed, it's not going to shake her at all."
Like Just Jared Jr. on FB