Wed, 05 April 2017 at 1:05 pm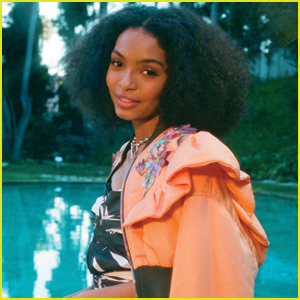 Yara Shahidi and Camila Cabello are sharing some of their most important life lessons in Glamour's Generations issue, on stands April 11th.
The 17-year-old actress and 20-year-old singer, who posed with their families, opened up about life lessons from their families, the future and being activists. Check it:
Camila on leaving Cuba for America at age six: "In Cuba there were days in class where we would just watch cartoons. We weren't learning. But when I came to the U.S., it was like: homework. A lot of things were suddenly so differentóbeing at a new school without my friends, I didn't speak the language, and I missed my dad. I had a little Disney calendar I would mark with x's until the day he was supposed to come. When he finally did, a year and a half later, I was so happy!"
Yara on her future: "Now that I'm getting ready to go to college, the questions are: What do you want to be? Who do you want to become? My parents taught me that it's not a monolithic answer. You can be anything."
Camila on learning from her mom, Sinuhe: "I think the most important thing I've learned from my mom has been: You're human if you have fear, but you can't ever let it determine how hard you go at a situation. If anything, it should make you go harderógo for it all the way."
Yara on being an activist in the current political climate: "I feel both scared and empowered. So much of my work is as Yara, not as a character. If you're attacking my work as a philanthropist or activist, you're attacking Yara. But because of Black-ish and this national audience we have, I get to have a larger or louder voice. One thing I've tried to tell my peers is the amount of support that we do have. I feel the impact of my work and don't feel as though I'm doing it for nothing. Black-ish has amplified the cause and the effect for me."
For more from Camila and Yara, visit Glamour.com.
Like Just Jared Jr. on FB