Thu, 06 April 2017 at 1:22 pm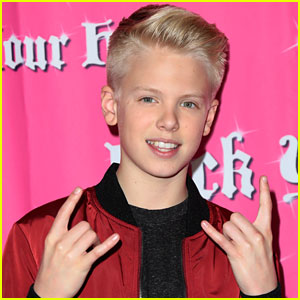 Musical.ly star Carson Lueders wants the world to know being a social media star "Feels Good" in his new music video.
Carson is front and center in the visuals for his new single.
In the video, the 15-year-old social media star shows off his dance skills, hangs with his dancers and meets a few girls at a newsstand.
But, mostly, the smile on Carson's face throughout the video shows how grateful he is for all of his success.
Check out Carson's "Feels Good" music video.
Carson Lueders "Feels Good" New Music Video
Click inside to see the lyrics for "Feels Good"…

"Feels Good" Lyrics
Woke up and I feel like money
Ain't nothing no one can't take from me
I got the style like this
Chef curry yea you know I don't miss
Every day is a blessing
Ain't got no time for regrettin'
And there ain't no quittin'
I'll tell ya I'm just livin'
Ooh I'm on a new wave
No matter what they said
Got no time to waste yeah
We do it our way
Let the sun hit your face
And it's all that it take cuz
It feels good feels good feel good ah
All I can say
Feels good feels good feel good ah
Everyday
Feels good feels good feel good ah
Everyday
Feels good feels good feel good ah
All I can say
Feels good feels good feel good ah
Feels good feels good feel good ah
Come on turn the radio up
The whole squad yeah know what's up
And when you hear this sound
We goin' shut the whole world down
Ooh I'm on a new wave
No matter what they said
Got no time to waste yeah
We do it our way
Let the sun hit your face
And its all that it take cuz
It feels good feels good feel good ah
All I can say
Feels good feels good feel good ah
Everyday
Feels good feels good feel good ah
Everyday
Feels good feels good feel good ah
All I can say
Feels good feels good feel good ah
Feels good feels good feel good ah
Ooh I'm on a new wave
Oh yes I'm on a new wave
Yeah we do it our way
We do it our way
We do it our way yeah
Ooh I'm on a new wave
And its starting today
Yeah we do it our way
And all that I can say yea
It feels good feels good feel good ah
All I can say
Feels good feels good feel good ah
Everyday
Feels good feels good feel good ah
Everyday
Feels good feels good feel good ah
All I can say
Everyday
Feels good feels good feel good ah
All I can say
All I can say
Like Just Jared Jr. on FB