Mon, 10 April 2017 at 6:06 pm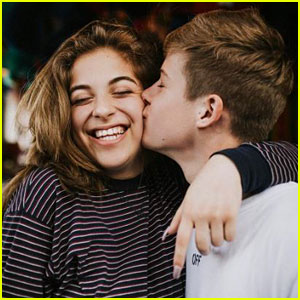 Musical.ly star Baby Ariel (aka Ariel Martin) has found love with fellow social media star Blake Gray, and she's sharing it with the world.
"Five months with my other half, & to many more," she tweeted today in honor of their five-month anniversary. "I love love love you with all of my heart, you mean everything to me."
That isn't even the cutest part of her post. She accompanied the tweet with four pictures of the two of them to represent their relationship, and the largest photo is of Ariel launching herself into Blake's arms, who looks (of course) delighted.
Five months isn't usually a milestone anniversary, which somehow gives this even more cuteness points.
"I love you," Blake tweeted back with a red heart emoji.
Thank you, Blake and Ariel, for showing us that sometimes, rom-coms are real life.
Like Just Jared Jr. on FB