Fri, 14 April 2017 at 4:44 pm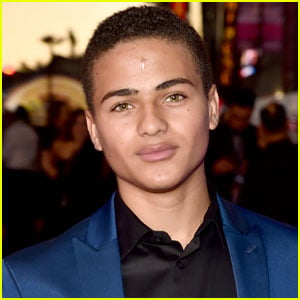 Nathaniel Potvin is the hot 17-year-old star of Disney XD's MECH-X4.
Since the show is about to have its mid-season premiere, we thought it would be a great time to get to know Nathaniel better… in five funny questions.
Here goes:
JJJ: What's the weirdest item under your bed?
NP: A bow & arrow.
JJJ: If you could be an inanimate object, what would it be and why?
NP: A spatula, so I could taste the hamburgers before everyone else.
JJJ: If you could eat only one food for the rest of your life, what would it be?
NP: Breakfast cereal with milk.
JJJ: What is your spirit color?
NP: Maroon.
JJJ: If your mantra was a pop song, which one would it be?
NP: "American Teen" by Khalid
MECH-X4 airs on Disney XD Monday – Thursday @ 7AM. The midseason premiere begins on Monday, April 17.
Watch the video to see an exclusive clip from the midseason premiere…
Exclusive: Midseason Premiere Clip of MECH-X4
Like Just Jared Jr. on FB