Sat, 22 April 2017 at 6:11 pm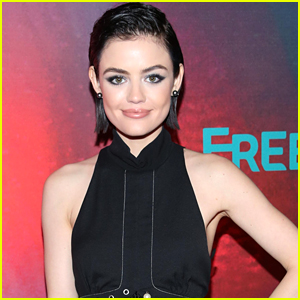 We've only heard a little bit about Aria Montgomery's darker side in the final 10 episodes of Pretty Little Liars.
Now, star Lucy Hale is opening up about more about what viewers will actually see her do.
"Aria gets to do some real cool stuff this season," Lucy says. "This was the first time in the course of the show that I went to [showrunner I. Marlene King] and I went to the writers and was like, 'Please, can Aria just do something really cool and different for the last 10 episodes?' And they gave me my way, and I was really surprised."
She adds, "Not only was it stuff I never got to do on the show, but I got to do things I've never done in acting, period."
So, what exactly is Dark Aria doing? "She does some crazy stuff."
"It puts everything at stake ? it puts her friendships, her relationships at stake ? and there are times when you're like, 'Whose side is she on?'" Lucy shares.
We can't wait to see!
Pretty Little Liars airs Tuesdays @ 8PM ET/PT on Freeform.
Like Just Jared Jr. on FB