Tue, 25 April 2017 at 11:19 am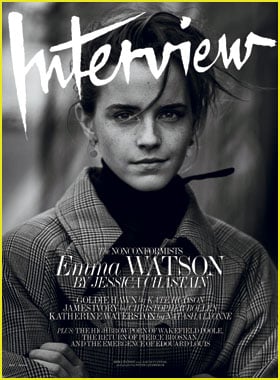 Emma Watson lets her freckles shine for the new cover of Interview Magazine's May 2017 issue, on newsstands May 2.
The 27-year-old Harry Potter alum opened up to fellow actress Jessica Chastain about her career, the idea of being a role model, and more. Check it:
On growing up in the public eye: "It's one of the things that I struggle with, because the three of us—Dan[iel Radcliffe], Rupert [Grint], and I—were kids when we got cast in this fairy-tale series, and what happened to us was kind of a fantasy story in itself. Outside of the movies. So the story of my life has been of public interest, which is why I've been so passionate about having a private identity. When I step into a character, people have to be able to suspend their disbelief; they have to be able to divorce me from that girl. And not having everyone know every single intimate detail of my entire life is part of me trying to protect my ability to do my job well."
On being a bad liar: "Also, I'm the worst liar ever. I remember trying to get into clubs when I was just about to turn 18. They'd ask my age— and my friends were already in the door, it was not even a big deal—and I was like, 'I can't do it.' It's terrible. They were like, 'You're an actress, what's wrong with you? Get it together, woman!'"
On being called a role model: "When people call me a role model it puts the fear of god into me, because I feel like I'm destined to fail.?"
For more on Emma, visit InterviewMagazine.com.
Like Just Jared Jr. on FB