Wed, 26 April 2017 at 1:54 pm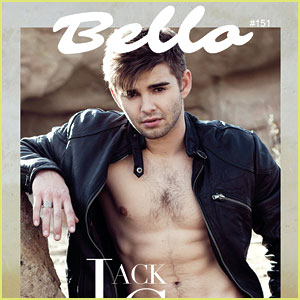 Jack Griffo is Bello Mags's cover star, and his sexy photo shoot shows a side to him you may have never seen before.
The 20-year-old old The Thundermans star has been on Nickelodeon since he was 14 years old, so it's hard to pinpoint the moment he went from adorable child star to bonafide hottie, but it has definitely happened.
Jack tells the magazine he's not very loyal to his workout regimen, lol.
"I haven't worked out in a while, to be honest [laughing]," he confesses to Bello. "The thing is, when I do work out, I work out really, really hard — almost everyday. But when I don't, I just won't do anything. Maybe I'll do some pushups at night but that's about it. But I'll get back in there soon."
We can totally relate.
He also dishes on his summer plans, and it involves a lot of music!
"I'm going to be off at the end of May, and I know there's a possible Europe trip in the works," he says. "There's also a lot music festivals coming up, like one in Wisconsin, which is where my girlfriend is from, so I'm really excited about that. There's also the Governor's Ball Festival and the Panorama Festivals coming up in New York. Childish Gambino will be at the Governor's Ball and Frank Ocean will be at Panorama — two of my favorite artists."
You can read the full article for free right here.
Like Just Jared Jr. on FB