Wed, 26 April 2017 at 8:28 pm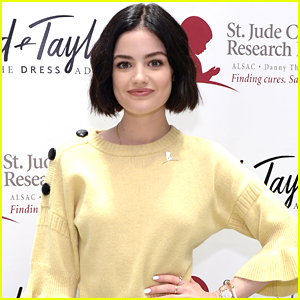 There are a ton of things we know about Lucy Hale.
She has two adorable dogs (Elvis and Jack), she can pull almost any hairstyle you give her, she NEEDs to get back into music asap (mostly because we miss the daylights out of her there), and she has a total of five tattoos.
There's a bow on Lucy's neck, the "light" on her left ribcage, her "A" on her initial finger and "Catch the foxes for us" on her right ribcage.
However, we almost forgot about her C.S. Lewis inspired one that's inscribed just below her breast, until we noticed it again in her amazing feature on Bustle.
The scripted ink reads "Courage, dear heart", from "The Chronicles of Narnia's Voyage of the Dawn Treader".
Here's the full quote from the book:
But no one except Lucy knew that as it circled the mast it had whispered to her, "Courage, dear heart," and the voice, she felt sure, was Aslan's, and with the voice a delicious smell breathed in her face
BRB, going to get a Narnian-inspired tattoo now.
Like Just Jared Jr. on FB