Wed, 26 April 2017 at 2:57 pm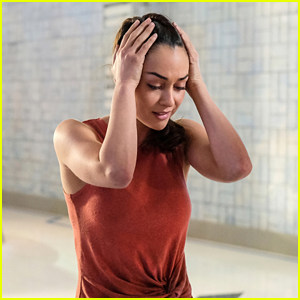 Raven's brain is on fire — really, it is — on The 100.
Actress Lindsey Morgan opened up about what tonight's all-new episode means for Raven and Skaikru.
"I think because she has been through so much, she was in denial about what was happening to her mind," Lindsey says of Raven's unwillingness to accept her fate. "Even with Abby's warning, Raven wasn't listening to it. There was a part of her that didn't want to hear it– that there was something killing her."
"There was also a giant part of her that felt, even if something was going to kill me, I'm going to do what I can. I'm going to help my friends even if it kills me and I'm going to make it."
Lindsey adds that now, as she's having seizures and hallucinations, Raven is going big with what life she has left to live.
"I feel Raven finally is accepting her mortality in a new way that she's never accepted it before…and the fact that she's going to actively stop trying to find a solution for her friends and focus on herself is a sign that she's accepting her death."
"She's going to fulfill her last dying wish as selfish as it may be," she says.
The 100 airs TONIGHT @ 9PM ET/PT on The CW.
Like Just Jared Jr. on FB