Fri, 28 April 2017 at 2:15 pm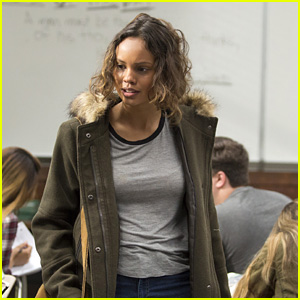 Alisha Boe is the next 13 Reasons Why star opening up about why certain scenes in the series needed to be seen — especially Jessica's rape.
"It shouldn't be censored at all. If you just brush over the suicide scene, the audience will think that it was easy," she shared with THR. "If you brush over the two rape scenes then the audience will think, 'Why are these girls freaking out so much?' Because that's already the stigma behind it."
Alisha adds, "We really have to show how ugly it is and how much it can affect a person's life. It's not easy and it shouldn't be easy to watch. "
Alisha also spoke about filming Jessica's rape and how she, director Carl Franklin and co-star Justin Prentice approached it.
"In between scenes, we would all check up on each other and would hug each other. It helped that Justin was so professional and made sure I was comfortable," she says. "It's hard to film because you're assimilating a rape. Of course it's tough and it's going to hurt."
"I went home that night and just cried. But at the end of the day it was more about making sure people who have gone through what Jessica has get their story told."
13 Reasons Why is streaming now on Netflix.
Like Just Jared Jr. on FB