Sat, 29 April 2017 at 3:39 pm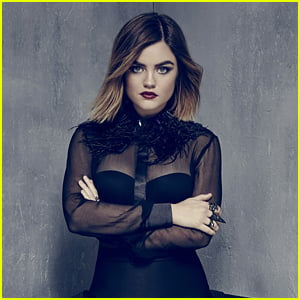 We've talked a lot about the dark side of Aria Montgomery coming on Pretty Little Liars, and Lucy Hale is spilling just a little bit more about what we'll see on the final episodes.
We know that all the liars are constantly playing with fire, however it looks like Aria will be going one step further.
"This was the first time in the course of the show that I went to [showrunner I. Marlene King] and I went to the writers and was like, 'Please, can Aria just do something really cool and different for the last 10 episodes?' And they gave me my way, and I was really surprised," Lucy shared.
"Not only was it stuff I never got to do on the show, but I got to do things I've never done in acting, period."
So what exactly is Aria doing?
"The board game plays a big part in the last nine episodes…and, Aria, it really pits her against the girls. For the first time it's little Aria against the rest of them, so things get weird."
Tune into Pretty Little Liars on Tuesdays on Freeform.
Lucy is also pictured running some errands in Los Angeles on Friday (April 28). She is wearing Vans shoes.
Like Just Jared Jr. on FB