Tue, 02 May 2017 at 2:01 pm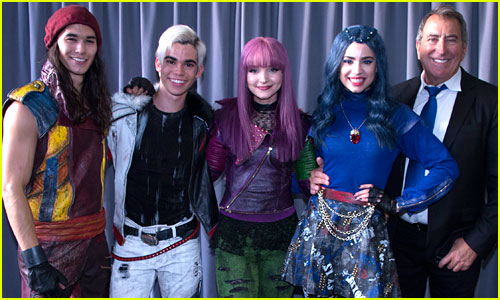 Descendants 2 stars Dove Cameron, Cameron Boyce, Booboo Stewart and Sofia Carson performed a medley of "Ways to Be Wicked" from the upcoming sequel and their classic hit "Rotten to the Core" on Dancing with the Stars last night.
No surprise, they totally killed it, turned the whole crowd rotten and made us even more excited for the movie's premiere this summer.
After the performance, we talked to D2 director Kenny Ortega backstage at DWTS, where he opened up to us about how the cast has grown since the first film and how you guys, the fans, played a major role in the creation of the upcoming film.
ICYMI: Descendants 2 is doing something that no Disney Channel show has EVER done before
"My cast, for one, they're not only triple threat actors, singer, dancers, they're partners. And every day they come prepared, passionate, excited and they help me raise the bar on ourselves," Kenny told JustJaredJr. "They've grown so much as artists and everyone that's seen the movie has said it's the strongest cast the Disney Channel's ever had."
The strongest cast Disney Channel's ever had? That's a big statement coming from the man behind the High School Music trilogy.
One thing that's changed since Kenny taught us we're all in this together is how fans use social media. The director says Descendants fans voicing their opinions about the characters and the movie on the Internet greatly influenced how they approached the sequel.
"We didn't really go at it to make it bigger or better [than the first movie], what really motivated us were the fans. The fans embraced us internationally and they're very vocal on social media, so they let you know what they love. They let you know what they want more of, they let you know where they want to go back to," Kenny said. "So they're not writing the movie, but they really help sort of set you in the right direction and what we wanted to do is we wanted to fill their expectation and then go beyond, and I hope we have."
More than 11 years after HSM premiered, the director says he feels "superb and lucky" to be back with Disney Channel for another musical saga that inspires a new generation.
"I feel very lucky and humbled," he confessed.
Catch all the wicked goodness when Descendants 2 premieres on July 21, 2017.
Like Just Jared Jr. on FB