Thu, 11 May 2017 at 3:25 pm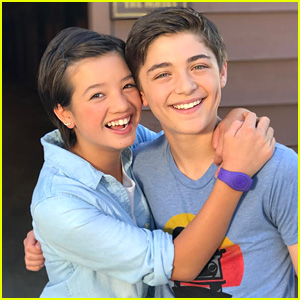 How adorable is this new pic of Peyton Elizabeth Lee and Asher Angel?!
The two Andi Mack stars spent the weekend together at Walt Disney World for the "Best Day Ever" event, along with Jenna Ortega and Izaak Presley.
JJJ recently spoke with both Peyton and Asher about their on-screen characters budding romance, and how playing ultimate frisbee on the show turned into a fun hobby for the both of them.
"At the beginning, Andi joins the team because Jonah does ask her to," Peyton shares about if Andi's motives are just to get close to Jonah, or she really does want to play the sport.
"She just really wants to be closer to him. Over time though, she does grow fond of the frisbee and the game and she gets really good at it."
Peyton added, "I loved learning how to play it for the show. Asher and I both, we've never really played this kind of frisbee before, so it was fun learning to play together."
Asher agrees that it was fun, but he's not at pro level yet: "I could definitely not take on the pros (laughs). Maybe someday though, if I keep playing."
He also says that they both had a lot of training to make it look good on the screen: "I definitely know how to throw a frisbee, but they did have an official coach come and I learned all these different ways on how to throw a frisbee. Now, I know it and it was fun."
Stay tuned for a first look at tomorrow's all-new Andi Mack ep!
Like Just Jared Jr. on FB