Thu, 11 May 2017 at 6:30 pm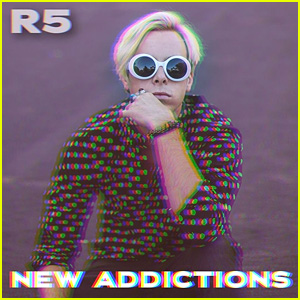 R5 grew up listening to amazing bands, and INXS was one of those bands that they will always pay tribute to.
JustJaredJr.com spoke with writers/producers Ross and Rocky Lynch about their "Need You Tonight" cover that made the five-song cut on their new EP, New Addictions.
"The most recent time we toured in Australia, we covered 'New Sensations'. One of the band members in INXS, he was tweeting it out and telling everyone how great it was. People really seemed to dig it," Ross says of the random, but amazing cover the band did. "The 30th anniversary of the band is coming up and so, we did just another recorded version of this song for the EP."
He adds, "We also grew up listening to INXS. They were one of the biggest influences of us starting R5. It was a lot of reasons [for us to include this song on the record]."
"Need You Tonight" might just be one you see R5 perform at their show tonight, too.
Ross says, "When it comes to our live shows, it's very spontaneous. It's very much a 'we're gonna get up there and we're gonna change the set list around and play songs that we've never played before'."
For instance, in New York a week before, is was so spontaneous that Ross forgot to tell everyone what he was doing.
"We had played 'Fly Away' by Lenny Kravitz, and it came together in a very spontaneous way. I had asked them all backstage if they knew how to play the song and got a unanimous 'Yea…kind of.' Nothing went wrong in the set at all, but for whatever reason, I just started to play the song, without any warning to anyone else. Everyone started playing it with me, thankfully, and it turned out really sweet.
"There are a lot of things like that where we're not prepared but it works out."
If you missed them, get the stories behind "If", "Red Velvet", "Lay Your Head Down" and "Trading Time".
Like Just Jared Jr. on FB